by Leslie Lang
Last week, I attended the second of four TMT & Maunakea: Common Ground meetings. The Hilo-Hamakua Community Development Corporation is putting on these meetings to bring together the community to hear about the culture, history, science, safety, economics and other issues regarding the Thirty Meter Telescope.
The announced speakers were Paul Neves, speaking on culture, Peter Adler on sacred spaces, and Michael Bolte on the TMT approval process. Paul Neves called and cancelled, though, citing a possible conflict of interest re: an ongoing lawsuit he is involved in. Hawane Rios, who is active in the Ku Kia'i Mauna protest movement, spoke in his place.
Perhaps a hundred people attended the meeting, which was held at the Kula'imano Community Center in Pepe'ekeo. It was a respectful crowd comprised of people on both sides of the issue, and I found it a very worthwhile and interesting evening.
PETER ADLER ON SACRED SPACES
Click here for the video of Peter Adler speaking or you can read a transcript of his talk.
Peter Adler, who authored the 2007 Keystone Center report Assessment of the risks for sitting the Thirty Meter Telescope on Mauna Kea, spoke about what is sacred, and I could almost see the hackles start rising on the backs of some of the Hawaiians as he began. Who was he to pontificate on what is sacred?, I imagined they might be thinking.
But his was no off-the-cuff dinner chatter. He has thought deeply about this subject for years, he said, and it was apparent. Watch the video and you'll hear him talking about how hard it is to understand the sacred places of other people. He also spoke about the whole issue we are discussing also has to do with leadership and about building bridges between cultures. He showed a short film clip from the movie Invictus, in which Mandela was trying to build a new country and build a bridge between cultures and make a place for everyone. He added something about not necessarily comparing Ige to Mandela. At that there was murmuring.
He talked about India where there are communal riots, he explained, between bored, angry, alienated young zealots, some of them Hindus and some Muslims, often over cows, which are considered sacred there. He told a very thought-provoking story about an  accidental injury to a bull in India and how he saw the aftermath unfold. That story right there is worth watching the video for. It makes you think about how sacredness means different things to different people.
He spoke of what makes mountains like Mauna Kea and Everest and others sacred, and then about how sacredness does not lie within a thing, but how something being sacred always comes down to behavior, protocol, ritual. Watch the video to hear more about what he means by that.
I'm finding it hard to summarize Peter Adler's talk adequately. He's a really interesting thinker and I found it unexpectedly fascinating. I highly recommend watching his talk above. I found him to be a great speaker.
MICHAEL BOLTE ON HISTORY OF THE TMT APPROVAL PROCESS
Click here for the video of Michael Bolte speaking.
Michael Bolte, president of the TMT Board of Directors and a professor of astronomy at UC Santa Cruz, has been involved with the TMT from the beginning.
He talked about two topics. First he talked about the history and wonder of telescopes, and it was a neat overview. Until the year 1609, people did amazing things just with the naked eye. They developed calendars, and clocks, and figured out when to plant their crops. He talked about the tiny telescope Galileo created in 1609, which just had a three-inch lens, and what he was able to discover with that and how it changed humankind's whole view of the universe. Bolte talked about how, as telescopes got larger, we learned not only that our sun was not the center of the universe, but, eventually, that our galaxy was not even the center of the universe. And they keep getting larger. Now, with the much larger Thirty Meter Telescope, he explained, we will be able to actually look back in time.
His second topic was to give an overview of the whole TMT process, since Mauna Kea was first considered as a site in 2004. He talked about how the TMT board spoke to both supporters and opponents here in Hawai'i, and found lots of people who were "vaguely negative" about the idea of the project because of how previous telescopes had been handled. Every single person involved with the TMT wanted to do right by Mauna Kea, he emphasized, with not a single exception. He outlined all the things they needed to learn, to ask, to hear, to make right.
He finished his talk with a couple of quick stories of very interesting interactions with people that happened along the way. I'll let you listen to those at the end of his video, above. They are worth a listen. Great stories and I was glad I heard them.
HAWANE RIOS ON CULTURAL PERSPECTIVE
Click here for the video of Hawane Rios speaking.
Hawane Rios is involved in the Ku Kia'i Mauna movement. At the eleventh hour, after learning that Paul Neves had cancelled, she volunteered to give a cultural perspective about Mauna Kea. She is well-spoken, did a great job, and you would never have known she didn't have time to prepare ahead of time.
She opened with the chant Malana Mai Ka'u. Then she spoke about Hawaiians having a relationship and exchange with the Mauna Kea, which teaches them how to navigate the ocean, when to plant food, when to step into the ocean, when not to, and more.
She pointed out that before the construction of the observatories, the reason not many archaeological finds or artifacts were found at the top of Mauna Kea is because that place was sacred and they were not allowed to go to the top.
She said the world is calling out now to protect Mauna Kea but our government is not listening, and talked about what is sustainable for our island communities. She said the earth and land are suffering, and wondered aloud if there will be water and food that has not been demeaned, fresh food, for seven generations. She spoke about being native, about community, about who is making the decisions, and how come they gave those people that power if they are abusing it.
She said she finds this TMT process very disturbing but is thankful for it too because it is awakening her people. We are small but we are mighty, she said. "We have people standing with us and saying, 'We are Mauna Kea.'" She said that although Governor Ige made his announcement, he made it out of fear, and she has compassion for him because he has fear. There is much more at the video of her talk (above).
COMING UP
The final TMT & Maunakea: Common Ground meeting will be next Tuesday from 6:30 to 9:30 p.m. and refreshments will be provided.
A correction to the published information below: Art Kimura and Richard will not be speaking. Cultural Expert Hank Fergerstrom will be speaking instead.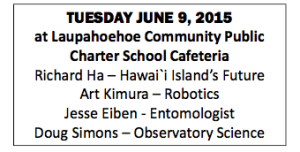 Another way to make sure you're up to speed on the facts is to read The Facts About TMT on Maunakea, which the TMT put out. It is very straightforward, clear, and easy to read. Definitely worth checking out.