Richard, June, daughter Tracy and her husband Kimo (who is also the farm's manager) and Tracy and Kimo's daughter, Kimberly, recently flew to Honolulu for dinner at Alan Wong's.
It was one of Alan Wong's Farmers Series dinners, where he features a certain grower whose products he serves. It was the first dinner of the current series, and Chef Alan was featuring Hamakua Springs.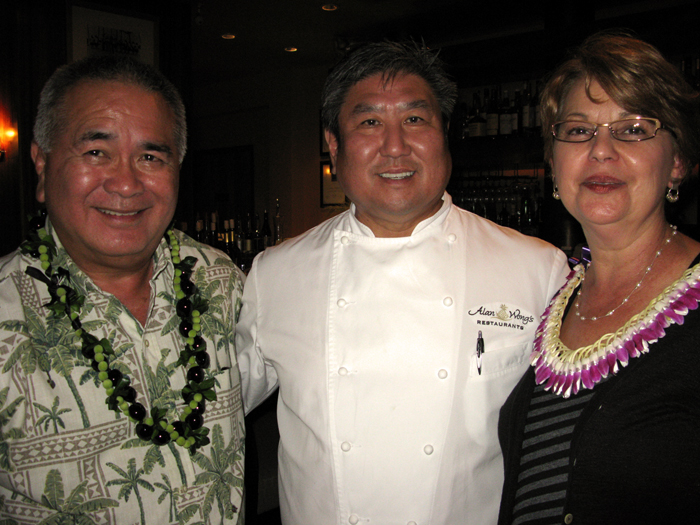 "It was a real honor," June told me. "It's the second time they've done that, and they are so welcoming. They treat us like we're celebrities there."
Richard said that Chef Alan asked them to speak to his staff before the dinner. "I introduced ourselves," he said, "and talked about where we came from, what we do and why it's important, what they do and how they support it. He let me talk about energy and geothermal; it was interesting to talk about that and how food security and energy is related. Now his staff has a better understanding of who we are and what we do."
Richard said they were very impressed with Alan Wong's staff. "They are very very knowledgeable and attentive. They really do know who grows their produce. I spent almost an hour talking to them before the dinner."
As customers were seated, the staff took them over to the tables and introduced them. "We talked to the customers, told them what we do," said Richard, "and invariably, everybody told us how much they support local agriculture. Every single one. It was pretty striking."

For the first course, Chef Alan demonstrated the difference between fresh grown Hamakua Springs tomatoes, and those from a can. He made soup from canned tomatoes, and soup from Hamakua Springs tomatoes, and let people do a taste test. Hamakua Springs was preferred in the blind taste test, hands down.
He also made stewed tomatoes, both canned and fresh, and served them in saimin spoons. "The one made with canned tomatoes was  dark red, and the one with our tomatoes was lighter. The other one had an aftertaste, like canned tomatoes do," said June. You could really taste the difference, Richard said, and everybody commented about it.
If you have read Richard's blog much, or heard him speak, you'll get a kick out of what Chef Alan called this tasting: "Not No Can…Can!" Tomatoes.
June's favorite course was the ravioli lobster. "That was the best," she said. "It was about a two-inch ravioli stuffed with lobster pieces and a buttery corn sauce on top."
June said that some customers asked if they worked with other chefs and restaurants in that way. "We said, No, Alan is the only one that does this. I was telling his staff we are proud to work for a company that has their produce in Alan's restaurant."
Richard pointed out that because Alan does that – makes sure the farmers and restaurant staff know and respect each other – the farmers feel more responsible for the product of our work. "Instead of leaving it at the loading dock and not thinking about it, we are responsible for it until it's on the plate in front of the customer," he said. "He depends on us to produce it for him, and not only the family but everybody on the farm feels that way."
He was also glad to be there at Alan Wong's Restaurant with Kimo, Tracy and Kimberly, he said. "They are the next generation, and it's so important for them to be able to have the same feelings that we had. That was really valuable. It's really unusual, to make the farmers and others feel important like Alan does."