On Friday, June and I visited Earl Bakken at his Kiholo Bay home, an oasis in the midst of kiawe trees where there are many, many birds flitting around, cheeping and chirping. It lifts one's spirit.
He wanted to talk about a Manifesto for Hawai'i Island, and he wanted to talk with me about geothermal.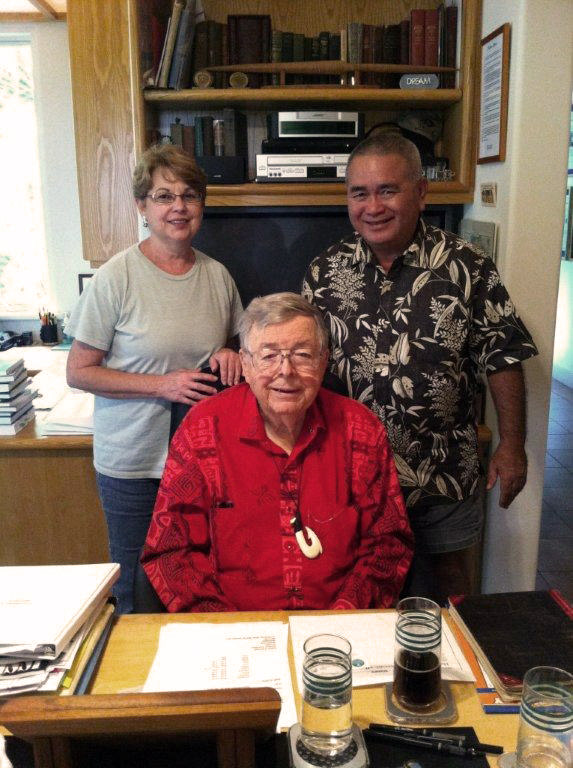 Talking with him, I was struck by how focused Earl is on the well-being of people. Complete selflessness. He says the North Hawaii Community Hospital in Waimea (which he helped found) is 20 percent science and 80 percent spiritual. June goes there occasionally and she feels the difference.
I was also struck by how concerned he is about Hawaiian culture and spirituality. He told me he was very much influenced by Papa Henry Auwae.
We talked about his idea for a Manifesto, his dream of developing a world-class hospital for Hawai'i Island, and perhaps using the construction period of the TMT to educate Hawai'i's kids – perhaps by setting up a construction cam, so a conversation about engineering and science and everything in between can begin in the schools.
He spoke about geothermal as a gift for Hawai'i's people. Certainly that is a subject very close to my own heart, and that conversation continues.
Here is a synopsis of some of what Earl Bakken has accomplished to qualify him for the 1999 Minnesota Business Hall of Fame. Since then, he has done so much more. Many of his new projects have been done on Hawai'i Island.
Here are several pages of Earl's dreams. The ones marked "D" are done or accomplished, and the ones marked "I" are in progress.
At the bottom right of the first block on that page – still in progress, he says – you can see that he dreams of a Manifesto for this island, one that would create energy independence, science and tech education, and health and wellness for the people and the land.