I attended a geothermal energy forum at the Pahoa Community Center on Saturday, and the seats were all taken.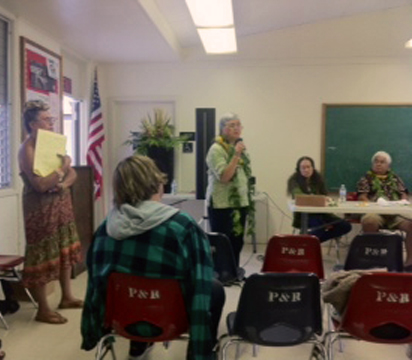 Pat Brandt is CEO of Innovations Development Group, which hosted the forum
This article, which ran in the Honolulu Star-Advertiser the day before the forum, gives some background:
Forum on geothermal energy to include Hawaiian leaders
POSTED: 01:30 a.m. HST, Apr 08, 2011
A Honolulu-based company that has developed geothermal energy projects on Maori trust lands in New Zealand will lead a community forum on the Big Island tomorrow to discuss the pursuit of geothermal energy there.
Innovations Development Group, which specializes in socially responsible development, said the forum will include presentations by six native Hawaiian leaders who will offer their views on how development of geothermal energy can be done in a way that protects cultural and resources…. Read the full article here
By my quick count, I would say 60 people attended.
I was there to hear people's points of view, and there were many. I was very encouraged because we had the opportunity to talk story and bridge gaps. The overriding sentiment, which I heard over and over, was that we were talking about benefits to the community – not just the Hawaiian community but the whole community!
This made me very happy. It is truly about all of us!
The second thing that rose to the top was that we could have moved further forward if not for a historical lack of transparency. For example, 10 percent of geothermal revenues right now are royalties paid to the state of Hawai'i, and 50 percent of that goes to the Department of Land and Natural Resources. People ask: How is that money used? There is no answer, though, because it merely goes into a general fund.
The same question is raised about the 20 percent that goes to the Office of Hawaiian Affairs (OHA). Where exactly does it go? No answer. To the credit of OHA Trustee Robert Lindsey, he knows this is unacceptable and has said that it needs to be fixed.
People also want to know why geothermal is available on the Big Island, and yet we have the highest electric rates in the state. How come? Had the utility been more transparent about its cost structure, this would not be an issue. But the people are often told, "We cannot tell you the cost; it is proprietary information." That just breeds distrust. People feel that transparency should be the trade-off for having a monopoly!
Wally Ishibashi and I agree wholeheartedly. We were joint chairs of the Geothermal Working Group, and agreed that we would make the process transparent. We know about people's concerns.
Moanikeala Akaka was there. She is a community watchdog, and told the IDG people, "I have not made up my mind. You guys may be Hawaiian developers, but I'm watching you, too." I'm glad she's watching. There's nothing to hide.
A young girl had the most impact on me. She said, "We need to move on. I worry about the world my daughter will grow up in. I don't want to come back here 20 years from now and be having the same discussion."
That was a very powerful statement and I feel it resonated with everyone there. And that's what makes things very hopeful.
People do know that "one day the boat not going come."
This was a heavy-duty meeting, and I will be writing more about it in the coming days.