Richard Ha writes:
There's more testimony against Hawaii County Bill 292 re: Geothermal Drilling Restrictions. The Geothermal Resources Council's testimony:
Hawaii County Council

c/o Office of the County Clerk
County of Hawaii

25 Aupuni Street

Hilo, Hawaii 96720

Re: Opposition to County of Hawaii Bill No. 292, Geothermal Drilling Restrictions

Dear Hawaii County Council Members:

The Geothermal Resources Council, as a representative of numerous geothermal
educational institutions and development companies hereby expresses its concerns about
Bill No. 292. The drilling restrictions in this Bill would inhibit and could ultimately
prohibit the further development of geothermal on the Big Island.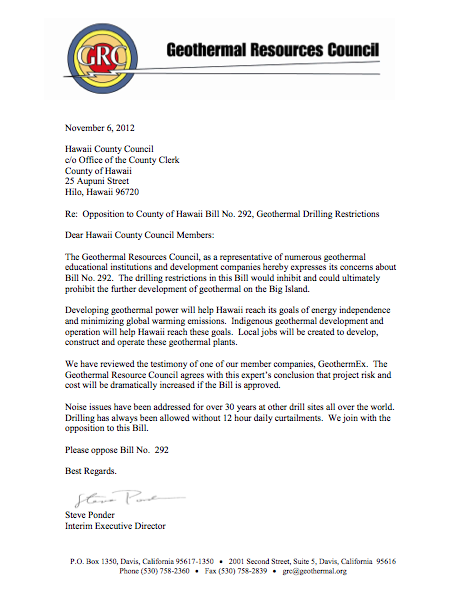 Developing geothermal power will help Hawaii reach its goals of energy independence
and minimizing global warming emissions. Indigenous geothermal development and
operation will help Hawaii reach these goals. Local jobs will be created to develop,
construct and operate these geothermal plants.

We have reviewed the testimony of one of our member companies, GeothermEx. The
Geothermal Resource Council agrees with this expert's conclusion that project risk and
cost will be dramatically increased if the Bill is approved.



Noise issues have been addressed for over 30 years at other drill sites all over the world.
Drilling has always been allowed without 12 hour daily curtailments. We join with the
opposition to this Bill.

Please oppose Bill No. 292

Best Regards.

Steve Ponder

Interim Executive Director 
About the Geothermal Resources Council:
The Geothermal Resources Council (GRC) is a tax-exempt, nonprofit organization, educational association 501(c) organization. Formed in 1970, the GRC was incorporated in the state of Washington in 1972, and in California in 1981. 
With members in over 40 countries, the GRC is a professional educational association for the international geothermal community.
Goals:
▪Encourage worldwide development of geothermal resources through the collection and timely distribution of data and technological information.
▪Promote research, exploration and development of geothermal energy in ways compatible with the environment.
▪Serve as a public forum for the world geothermal community, providing transfer of objective and unbiased information on the nature of geothermal resources and techniques of geothermal development.
▪Cooperate with national and international academic institutions, industry and government agencies to encourage economically and environmentally sound development and utilization of geothermal resources. Read more about the organization