Richard Ha writes:
On Saturday, I was on a geothermal panel at the Hawai'i
Island Democratic Party Convention, which was held at the Volcano Art Center.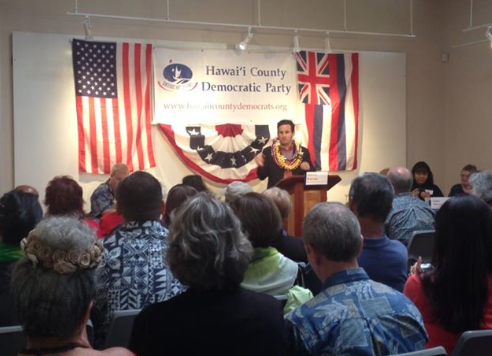 Also
on the panel were State Senator Russell Ruderman and former Big Island Mayor Harry
Kim. 
It went very well and I'm very optimistic. I think most of us just want to
do the best for all of us.
I made it a point to tell the audience that I went to O'ahu
on behalf of the Big Island Community Coalition and testified in favor of four
geothermal bills. What the four bills had in common is that they all contained
provisions for "home rule." I told the audience: This was so you could have a
say in the geothermal issue.
My main point was that we are competing with the world for
oil. And we need to seek a competitive advantage for the Big Island, and this
has to do with cost.
We all know that the price of oil price rise; it's only a matter
of when, and how high. So if we can find a lowest cost solution, this will
protect us from a rising oil price. It does not matter what the alternative is,
so long as it gives us a competitive advantage.
Right now, it's geothermal that has the potential for giving
us that competitive advantage, assuming we don't drive up its cost so high that
we lose that advantage. Whether or not we achieve its potential is up to our
leaders and to the Puna community.
Here's what I told the Democratic Party Convention:
We are on a search for
"competitive advantage" for the Big Island. Organisms, organizations
and civilizations do this – it is called "survival of the fittest." It isn't
the strongest or the smartest that survive; it's the ones that can adapt –
Charles Darwin 
My name is Richard Ha. I am a farmer here on the Big Island.
Together with our 70 workers, we farm 600 fee simple acres at Pepe'ekeo. We
have produced multi-millions of pounds of bananas and tomatoes over the past 35
years.
In my search to find competitive advantage for my farm's
future, I've now been to five Association for the Study of Peak Oil (ASPO)
conferences.
Here is what I took away from these conferences:
Oil
price quadrupled in the last 10 years.
The
last 11 recessions were associated with a spiking oil price.
Oil
is a finite resource.
The
world has been using three times the oil it has been finding for many years
now.
The
days of cheap oil are over. 

The
cost to produce the marginal barrel of oil – the last barrel, as in shale oil
and tar sands – was $92 per barrel in 2011.

The
U.S. mainland uses oil for only two percent of its electrical generation. Hawai'i uses
oil for more than 70 percent of its electrical generation.

Anything
manufactured on the mainland with cheap oil embedded makes our local producers
and manufacturers less competitive. This affects Ag products.

It
is not the supply or demand of oil that will cause the
greatest damage; it is the cost of
oil.
How
much time do we have? Because it is about oil cost, we have less time than we
think.
 ELECTRICITY ON THE BIG ISLAND
Uses
180 MW at Peak.
Most
of the increase in electricity bills is caused by oil pass through.
Bio
mass – as in wood chips – and geothermal have base power potential.
Solar
and wind must add storage to become useful as base power. 
Storage at utility scale is prohibitively expensive
today.   
ECONOMY
Big
Island electricity rates have been 25 percent higher than O'ahu's rates for as
long as anyone can remember.
The
Big Island has the lowest median family income in the state.
The
Pahoa School Complex has, at 89 percent, the highest percent of students
participating in the free/reduced lunch program in the state. Ka'u at 87
percent and Kea'au at 86 percent are close behind.
Education is the best predictor of family income. Yet the Big
Island's high electricity cost takes away from its education budget.
Rising electricity rates act like a giant regressive tax.
The folks who are able to leave the grid for PV do so. The folks left behind
pay more for the grid. Many of these folks are the ones already on the lowest
rungs of the economic ladder: THE ONES THE DEMOCRATIC PARTY IS CONCERNED ABOUT.
Rising electricity rates take away discretionary income.
Two-thirds of our economy is made up of consumer spending. Bottom-up economics
benefit all, from the rubbah slippah folks to the shiny shoe folks.
GEOTHERMAL
Cost
to generate electricity from geothermal is estimated at 10 cents per kilowatt
hour. This is less than half the price of electricity generated by oil, which
is estimated to be 21 cents per kilowatt hour.
The
cost of the feedstock steam will be stable for a long time. The Big Island is
estimated to be over the "hot spot" for 500,000 to a million years.
Concentrating
geothermal on the East Rift increases risk. Iceland mitigated the risk by
keeping some oil-fired plants in operational reserve.
Home
Rule. The Big Island Community Coalition, myself as representative, personally
voted for four of the bills that contained the Home Rule provision.
Mediation
vs. contested case hearing. It is a risk/benefit, cost, competitive advantage
question. The lowest cost solution to accomplish the objectives is our target.
How
much time do we have? If cost is our primary concern, we have less time than we
think.
I asked Dr. Carl Bonham: What happens if the oil price hit
$200 per barrel? He replied that it would devastate our tourism industry.
I asked Dr. Bonham: What if we used geothermal as our primary
base power? Wouldn't we have a competitive advantage to the rest of the world
as the oil price rose? He said, "YES."
And, I asked, isn't it fair to say that our standard of
living would rise? He said: "YES."
By giving the Big Island a competitive advantage in
electricity rates, we can take care of all of us; not just a few of us.
WHERE ARE WE TODAY?
We are on a good track.
We
have 38MW of geothermal. The 25MW original contract, which is still tied to
oil, is being renegotiated right now.
HELCO
has signed a 22MW power purchase agreement with Hu Honua. This is proven, stable
and affordable technology – firewood, boil water.
HELCO
has issued a 50MW request for geothermal proposals.
These 110MWs of stable, affordable electricity base power
represent 60 percent of the Big Island's peak power usage.
O'ahu has 10 percent of its base power electricity coming from
stable affordable sources.
If we all work together, to take care of each other, we can
be on track to have a competitive advantageover the rest of the world.
***
Some good resources on this topic:
Geothermal Assessment & Roadmap is a report compiled by the Pacific International Center For High Technology Research (PICHTR)
under contract to Hawaii Natural Energy Institute, University of Hawaii in January 2013.
Peak Oil Warning From an IMF Expert: Interview with Michael Kumhof is a modeling done by the International Monetary Fund (IMF) economic team. Although it is not an official IMF document, it was done by the team that does economic analysis and modeling for the IMF.
We are dependent on air transportation, and this video, Charles Schlumberger: Out of Gas: Implications for Transportation, gives a sobering view of what we can expect in the future. Dr. Schlumberger is head of the air transport division of the World Bank.