Here's a sample of some recent comments I saw about something I wrote about the Thirty Meter Telescope (TMT) on Facebook: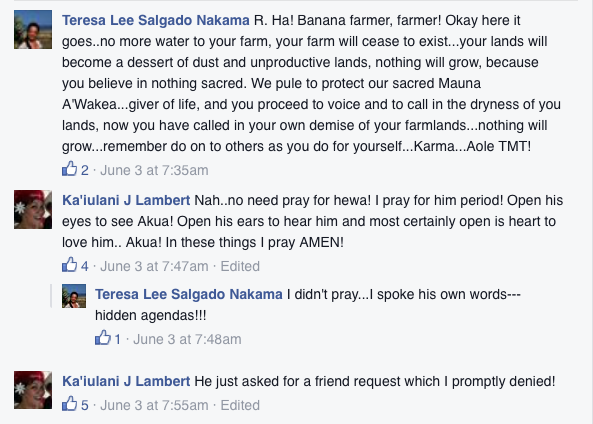 I'm certainly not trying to tell people they need to change, or think like I think. Everybody can have their own opinion and say what they want to say, but I'd like to see the communication be more respectful than this. We need to keep the spirit of aloha with us.
I cannot remember a time when Hawaiians were attacking other Hawaiians loudly and in public. We need to dial the temperature down. Our native Hawaiian leaders need to step forward and lower the temperature.
I do know the Royal Order of Kamehameha stepped up early on and prohibited the use of the war god Ku up on the mountain. Before they did that, Lanakila was running around with an image of Ku. We need more such positive leadership examples.
If folks want to protest or engage in civil disobedience, that is their choice. People have given their lives so they can do that. But we all know that the TMT will start construction and it's important to remember that it's a dangerous environment on the mountain. We all need to be careful and respectful and abide by kapu aloha.
What some of the anti-TMT people are not hearing is that my point is really about the maka'ainana. I always, always advocate for the maka'ainana, the "rubbah slippah folk," who are a huge part of Hawaiian culture.
I often wonder how many of the anti-TMT folks have studied up on and understand why so many of us consider geothermal, GMOs, and the TMT important to the Big Island's future. We hear so many of their arguments based on incorrect assumptions.
We're also hearing a lot about sovereignty and Hawaiian Kingdom issues wrapped up in the TMT. I don't take a position on those issues. They will be decided over time. We're talking here about the TMT.
Too often in the discussions surrounding geothermal, GMOs and astronomy in general, the consequences to the rubbah slippah folk are not taken into consideration. Too often the end justifies the means whether it makes sense or not. I don't agree with that.
I'm open to discussion about any of these topics. My Facebook page has always been set to public. I'm pretty active there and also respond here at my blog. But for safety's sake, we need to see the temperature dialed down a bit.