Richard Ha writes: 
State Senator Russell Ruderman used his own company's letterhead when he submitted anti-GMO testimony recently to the Hawai'i County Council. He owns Island Naturals, the natural foods markets.
It certainly seems to be a conflict of interest for him to be supporting the Big Island's anti-GMO movement, and he should recuse himself from all discussions and votes regarding GMOs. Submitting testimony on his company's letterhead does not help lessen this impression of his having a serious conflict of interest.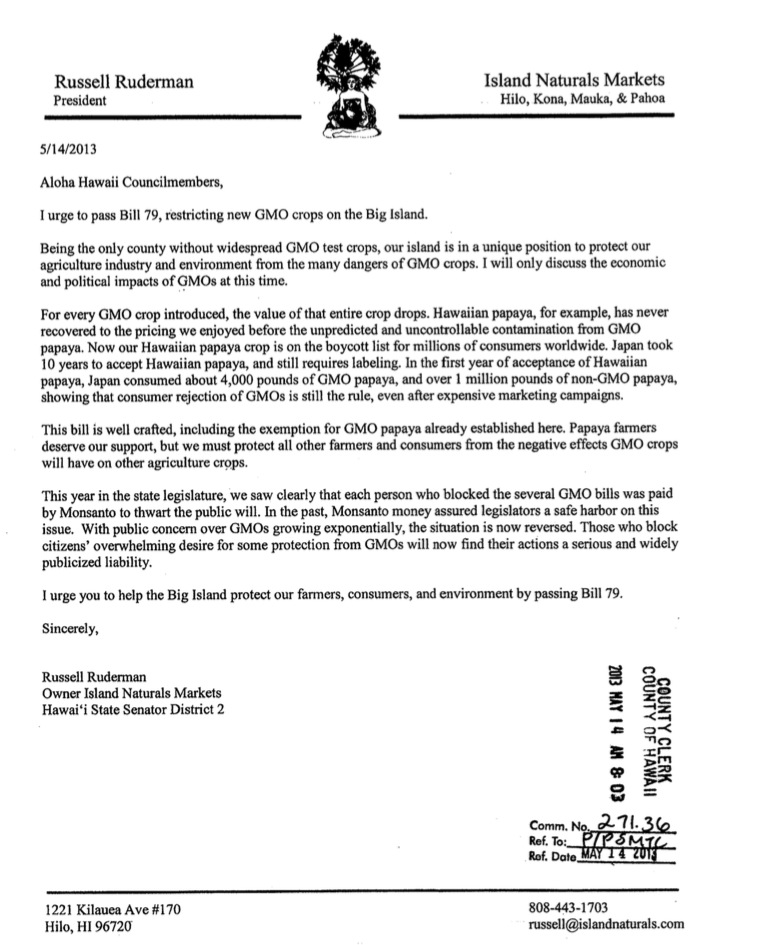 He also wrote an article for Big Island Weekly recently, titled GMO Facts and Fictions, which he says is the first in a series of installments.
What's most interesting are the comments that follow his article, like this one from Karl Haro von Mogel, Ph.D. Candidate in Plant Breeding and Plant Genetics, UW-Madison, Chair, Biology Fortified, Inc. Von Mogel is highly educated on issues regarding GMOs, and he wrote this:
I applaud State Senator Ruderman's desire to clear up confusion about genetically engineered crops, but in this 
opinion piece, he has made a great number of outright falsehoods that 
further confuse the topic and muddy the waters. I am a plant
 geneticist who studies this topic very closely and is building a 
database of all peer-reviewed scientific studies on genetically 
engineered crops, so I am very familiar with this field. I will attempt 
to correct the most egregious of Ruderman's errors.
He goes on to correct many of what he calls Ruderman's "outright falsehoods" in detail. It's a very long comment.
Ruderman responded with this:
As mentioned in my column, I will be addressing these studies in more detail in future columns. I look forward to discussing the Seralini study, which, in addition to showing serious effects from GMOs, illuminates the aggressive tactics of biotec companies in suppressing science it doesn't like. These studies point to the need for long-term follow-up studies, which have not been done. I will also clear up the confusion of how Bt affects humans by disrupting our essential gut bacteria, which is not understood by some of the previous commenters.
And then von Mogel, who is highly educated on the science of biotechnology, responded with this:                              
Mr. Ruderman, you have made a series of very outlandish and false claims about Bt that you did not support with any evidence. This comment of yours would have been the time to at least give us links to the studies that you say exist, or to correct the record. Saying that you are putting off supporting these claims with evidence until some future column suggests that you don't have such evidence. Indeed, I was very direct in saying that for some of the claims you made, there is not a single study that even remotely suggests anything like that – such as your claim that the genes have transferred to our gut bacteria.
By bringing up the Seralini study, you are changing the subject. Seralini's (now retracted) study did not involve Bt at all, so it does not support any of the arguments you have made. Indeed, there have been long-term feeding studies with Bt. There have been feeding studies that look at effects on gut bacteria and conclude that there are none. As I said, I am intimately familiar with the scientific literature on this topic, and I can help you find answers to your questions. 
As a State Senator, it is your duty to consult with scientific experts – especially those in Hawaii who work for the state that you represent – so that you can make decisions based on established scientific facts. Hawaii needs leaders who can represent both the concerns of the population and duly weigh the evidence to make informed decisions. Will you be that leader?
We need to hold Senator Ruderman to a higher standard than he's holding himself to, because he's our elected official and making decisions on behalf of all of us.
There are other interesting comments there, as well. They're by far the most interesting thing about that article, in my opinion. Read them all here.
I have asked Senator Ruderman many times how his stance, which does not even seem to be supported by science, will help the Big Island and its food security status. How will it help the rubbah slippah folk in his district? I have never received an answer.