Art Kimura, who's been called Hawai'i's "Father of Robotics," has a lot of enthusiasm for promoting Hawaii Robotics programs in our schools.
We talked to him about what sorts of careers Robotics sometimes leads children toward, the exciting state and world championships the kids compete in, and what's going on with access to the programs.
This is the second part of a two-part series on the subject. Read Part 1 here.
Q. What do children learn from Robotics, and what sort of careers are those skills useful in?
Art Kimura: It definitely leans toward engineering and computer science. Those are the two high-level occupations that we've seen many kids strive for as a result of Robotics. I think one real strong piece of evidence, although it's never been studied well enough to say this is definitely it, is that the University of Hawai'i College of Engineering enrollment has nearly doubled since Robotics started.
Nobody's done a study on it but we kind of see the linkage because if you interview the students there, many of them say, "Yeah, I was on this Robotics team or that Robotics team."
It's also well documented that many girls will say, "I'm an engineer because of Robotics." In other words, they never thought of it until they joined the Robotics team and then the light bulb went on. "Hey, I can do this."
Tell me about the Pan Pacific VEX Championships that were just held here.
We were in the Kamehameha Schools gym and we had 88 teams playing and hundreds of parents and other supporters. It was an awesome 'ohana of Kamehameha faculty and students who provided the venue and services, from the opening 60-plus dancers who showcased Hawai'i's culture to the concluding final matches on Sunday.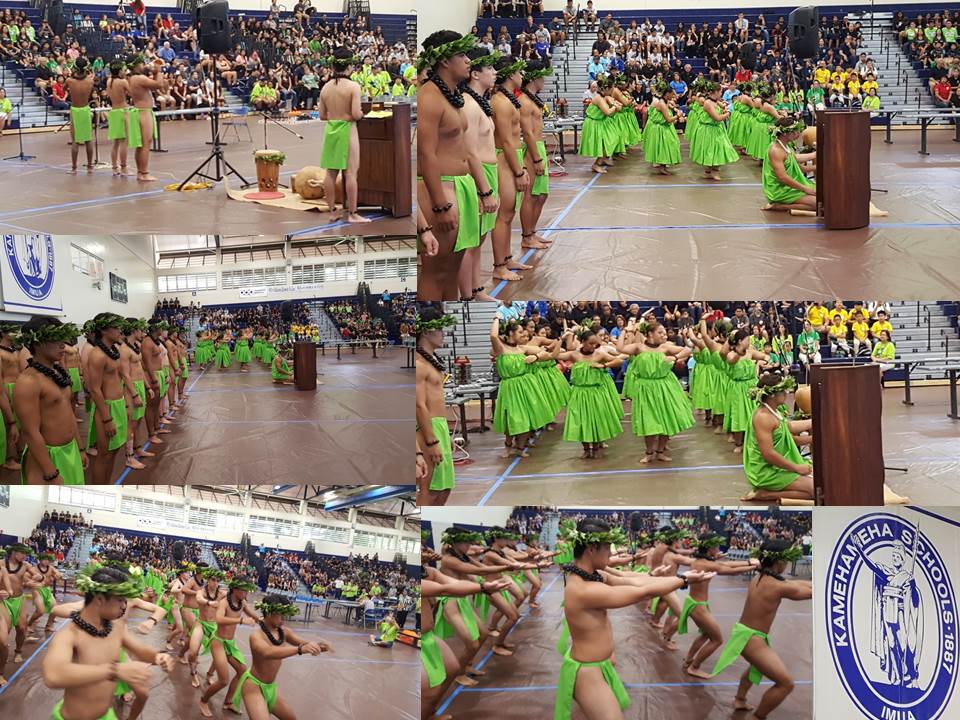 The place was so loud with the parents cheering and the music blaring out and excited MCs calling the matches, students dancing in the stands. You could hardly hear each other talking, even if you were sitting next to each other. It was just like a sporting event.
Is it an annual championship?
We used to have it annually and then we stopped for a couple of years for different reasons. The reason this was reignited is we had a discussion at Hawaiian Electric Company.
Hawaiian Electric has a partnership with Okinawa Enetech, which is the utility on Okinawa. They're trying to learn from each other. The Okinawans were interested in what Hawai'i Electric does in Hawai'i in terms of STEM education.
Hawai'i Electric has been long-time supporters of STEM education. They give money to support science fairs, they give money for many different causes in terms of STEM, and they've become a strong supporter of Robotics. Twenty years ago, they supported Waialua and they're still supporting them today. They're our title sponsor of our state VEX championship, so they have contributed not only funds but their volunteers also come out and support the tournament.
In that discussion we had with Hawaiian Electric, and because of their partnership with Okinawa Enetech, we thought we would bring back the Pan Pacific Championship as a means of trying to get this tournament held not only in Hawai'i but also in other countries. The vision is this tournament that we just hosted will rotate to other countries, like an Olympic-style event, where it could be in China or it could be in Taiwan (but all in the Pacific Rim because that's what our focus is).
By having teams come here, our kids can participate in an international competition and see how they measure up. A few years ago when we hosted it at the Hawai'i Convention Center, we grew the tournament into the second largest tournament in the world. One hundred and twelve teams. We still consistently get 20 teams from China coming to that. China has thousands of VEX Robotics teams, probably approaching 5 or 6 thousand now.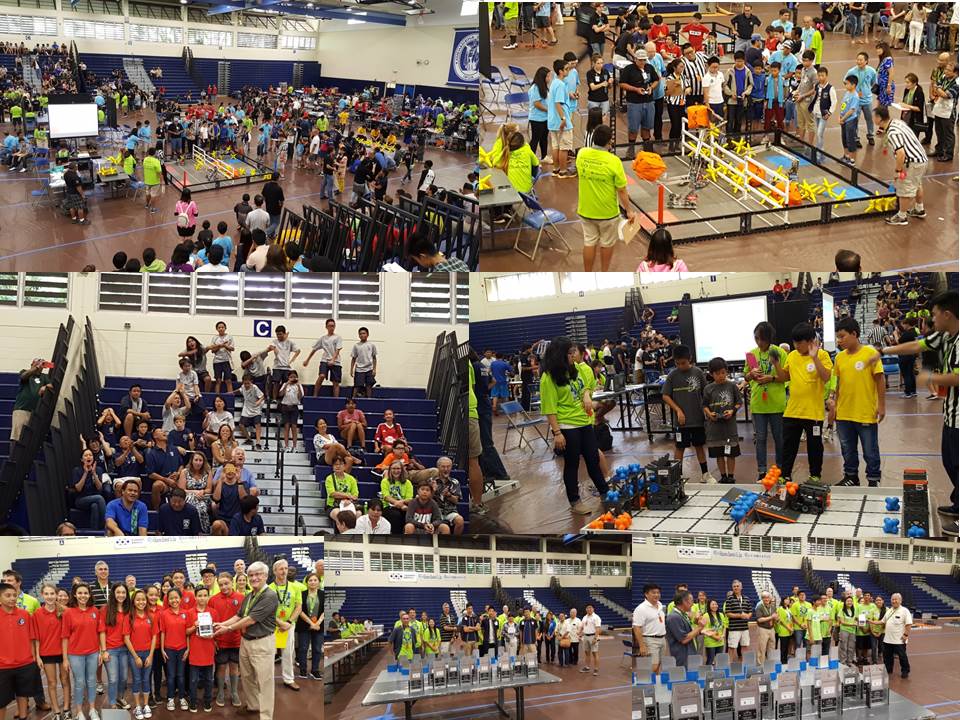 We have some sub-issues going on where we're hoping this tournament will catalyze Okinawa. Right now, Okinawa has no VEX Robotics program because they have their own program. We're trying to see if we can get into their system with this program and sort of selfishly, we would like our teachers here, who are really experts in this area, to be the trainers; to send them there to train the Okinawans.
We also had representatives from three Department of Defense schools, from Korea and Okinawa, at our tournament to see whether they can include that in the Department of Defense schools in Korea, Japan, the Philippines and other entities around the Pacific. Again, with our goal being our teachers will become the trainers.
We work very closely with the Robotics Education and Competition Foundation. They're a non-profit and they organize all these VEX tournaments worldwide. Their president was the one who helped start our program back 20 years ago. He brought his team to Hawai'i and helped us start.
Anyway, he offered us two world championship slots for our Pan Pacific Championship, so two teams would qualify for next April's World VEX Championships in Louisville, Kentucky. We're first in the world to qualify two teams.
Has Hawai'i Robotics gone to the world championships before?
We went to that championship this past year with 31 of our Hawai'i teams and it was absolutely amazing. The facility's so large. Literally, I was walking 10 to 12 miles a day inside the building just to go visit the teams.
There will be probably about 25,000 people cheering on the kids next year and probably 1,000 teams competing from all over the world.
How did Hawai'i do last year?
We do really well, but we don't win the championship. It's just difficult to get to that level, but our teams win trophies, they finish high. We're proud of them when they do that. Several came home with trophies.
What's coming up this year?
This year we have two different games. One game is called Starstruck. It's a fun game where these stars get thrown back and forth across the field, these bean bags get thrown back and forth, and at the end of the game the robot climbs a pole.
The state high school championship, for the very first time, is going to be held here on the Big Island on January 5th at Kea'au High School. It's the start of some two dozen more IQ and VRC Robotics tournaments statewide. The VEX middle school state championship will be held at the new Stevenson Middle School STEM center on January 7, and the VEX IQ state championships for elementary and middle school will be held February 20 at the Hawai'i Convention Center.
Robotics is something you don't get until you see it, really. You don't feel what the kids feel until you actually go to a tournament and see the excitement.
It's really exciting. It's the value of having fun while you're learning. And when you ask the kids what they like about it, they come up with all kind of different reasons about what it's teaching them.
What are the challenges?
One of our big challenges right now is access. Less than five percent of kids in Hawai'i have access to participating on a Robotics team.
Representative Mark Nakashima really helped us this past year with legislation he got passed by the legislature. Several years ago, he sent money to the Department of Labor and initially they focused on things like agriculture. This past year, the Labor people contacted us about IT. In other words, how do you get more kids interested in IT kind of stuff?
We got access to that funding, and because of that we were able to increase statewide participation in VEX IQ 55 percent in a single year.
That kind of infusion of money really helps because I can go to a school and say, find me a mentor and we'll provide all the resources for you.
It's not a huge investment. Offering Konawaena Elementary three Robotics kits and a game field, the value is probably about $1,700. We've got 55 kids involved there. And everything is reusable except the new game, because every April a new game is announced. As far as the kit, though, you can use it year after year. Once you get the initial parts in the schools, they can sustain it on their own.
Why should people encourage their kids to get involved with Robotics?
It goes back to having kids learning life skills through this process. I think it's a wonderful way – it engages them and it's real to the students.
One major complaint I get from teachers about Robotics all the time is the kids don't want to go home. It motivates them to do something on their own. It's nothing that they're forced to do and they don't get graded on it. They do it as a club activity most of the time.
You never know, the experience could change their life. They never thought of engineering, they never thought of programming, but all of the sudden, the light bulb goes on and there it is.